Tuesday, February 12, 2008
Futurama: Bender's Big Score


Futuruma

tv series

is slightly similar to

Simpsoms

but this series was set in a fantasy future, where robots, aliens and humans live to together on Earth and space travel is just a part of everyday life.It was created by

Matt Groening

. Futurama makes spoof comparisons between the years 2000 and 3000 which we can reflect on. Follows the adventure of Fry, a pizza delevery boy who accidentally frozen and wakes up many years later to find his parents have died and he meets his relative years on. Some characters are Leela,a female cyclops;Bender an immortal robot;The Professor, a mad scientist; Zoidberg, a lobster like alien from the planet Decapod 10 and Amy, an engineering student at Mars University.
Futurama on Movie Theater
Futurama Bender's Big Score is an Annie Award-winning straight-to-DVD film based on the animated
tv series
Futurama. It was released in the United States on November 27, 2007. The movie was written by Ken Keeler, based on a story by him and David X. Cohen, and directed by Dwayne Carey-Hill. The film features an extended version of the Futurama theme song, as well as introductions of all the main characters during the op
ening sequence.


The

movie

features return appearances by many of the recurring and one-shot characters in the series. Several of the notable ones include: the Nibblonians, Zapp Brannigan, Kif Kroker, Fry's dog Seymour, Barbados Slim, Robot Santa, the God space entity, Hedonismbot, Al Gore (played by himself), the Robot Mafia and Coolio as Kwanzaa Bot. It also introduces Mark Hamill as the Chanukah Zombie, a character mentioned by Kwanzaa Bot in an earlier episode.
posted by Gingercaily @ 6:21 PM 36 Comments

Sunday, February 3, 2008
The Legendary Blade
"The power of an im
mortal.
The soul of a human. The heart of a
her
o."

Have you ever dream or wish to become a vampire? It's kinda weird because when i was a kid, i dreamed to became a vampire, why? maybe because vampire live much longer, much stronger,powerful and invulnerable . But there is one thing i hate about being a vampire, that i would never be able to go out into sunlight and i would definitely required to drink blood. It's weird but i find it cool. Well, If you're also fun of watching vampire movies and
tv series
, i think you're familiar with Blade. Blade is full of violence and excellently choreographed martial arts type action. This was actually become famous in
movie theater
and later on in
tv series
.
Blade is one of the best comic book adaptations directed by Stephen Norrington starring
Wesley Snipes
as Blade. A half-human and half-vampire. It happens when his mother was bitten by a vampire when she was pregnant with him and as a result Blade adopted some traits of a vampire. The story goes around Blade's revenge for his mother who's been killed by vampires. He spent his life hunting down and killing vampires to seek justice and carry the mission of destroying the underground civilization of bloodsuckers. With the help of Kris Kristofferson as Abraham Whistler who serve as the brain and Blade is the muscle. Together, they fight Stephen Dorff as Deacon Frost an evil vampire who control and lead the civilization of bloodsuckers.
Blade "The House of Chthon" Tv Series was directed by Peter O' Fallon inspired by the popular Blade action-movie trilogy created by David S. Goyer. starring:
Sticky Fingaz
,as "Blade", a half-human and vampire warrior responsible for the battle against demonic and supernatural villains. he was known for his expertise in using samurai sword to killed vampires.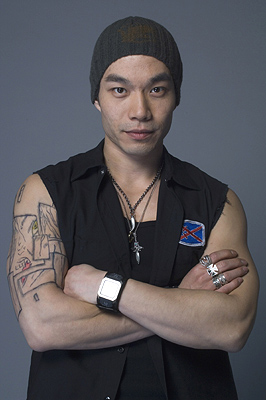 Blade was accompanied by Nelson Lee as "Shen", Blade's weapon savvy and known for his wise-ass sidekick.
Jessica Gower as "Chase", known for her loyalty to her team.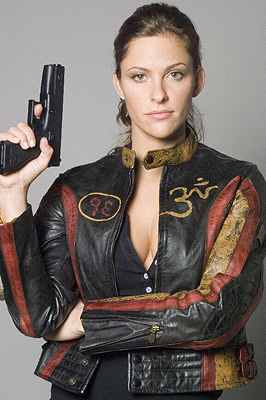 Jill Wagner as "Krista Starr" an army veteran who teamed up with Blade to searched for the secret truth behind her brother's mysterious murder at the hands of evil vampire, Marcus Van Sciver.
Neil Jackson as Marcus Van Sciver, charismatic vampire bent on world domination,
Together, they battle to defeat the House of Chthon, one of the most powerful houses where vampires and "familiars" (humans who wish to be vampires) live. They were led by the vampire overlord Marcus, the mission of this evil group is to create a vaccine that will give rise to a new breed of super vampires, immune to vampire weaknesses. Blade and his team will do everything they can to win this war and save humanity before it's too late."
Blade proves its success in both tv series and movie theater. With it's interesting take on the vampire genre and bringing the classic lore of the vampire into the new millennium and mixed with modern technology to give some degree of scientific credibility with lots of action, great effects, fights and blood. Blade is truly one of the best comic book adaptations and if you have fun in watching Blade, i'm sure that you might also enjoy
Buffy the Vampire Slayer
who also hunt down evil residents of the underworld.
Movie Theater
Labels: Action, movie theater, sci-fi
posted by Gingercaily @ 8:51 PM 19 Comments